Have you decided to have hair transplant surgery? Congratulations: it's the first step in resolving the problem of unwanted hair loss. The next step is to decide which hair restoration surgery is right for you. You may have heard of FUT (Follicular Unit Transplantation) or Strip Surgery, but there are some very compelling reasons why you should avoid this option.
What is FUT or Strip Surgery?
FUT (Follicular Unit Transplantation) or Strip Surgery involves removing healthy hair follicles from the back of the donor's head in a long, narrow strip, typically 20 to 25 cm in length and 1 cm to 2.5 cm in width. The donor area is then stitched and stapled, requiring a period of approximately 30 days to heal completely.
The follicles that have been removed are dissected into small, individual grafts and these are implanted into the area or areas of baldness.
Above: Patient with linear scarring from previous FUT surgery. Limited viability of remaining hair in this donor area, there is not a lot of hair to transplant to the progressively balding scalp.
The four biggest drawbacks of FUT surgery are:
The lengthy recovery period.
The painfulness of the recovery.
The possibility of shock hair loss in the donor area. Shock hair loss can occur in the surrounding area of where the scalp has been stitched up. This shock loss may or may not grow back.
Prominent and permanent scarring of the scalp.
Left with limited viable follicles for future hair transplants (limited donor capacity).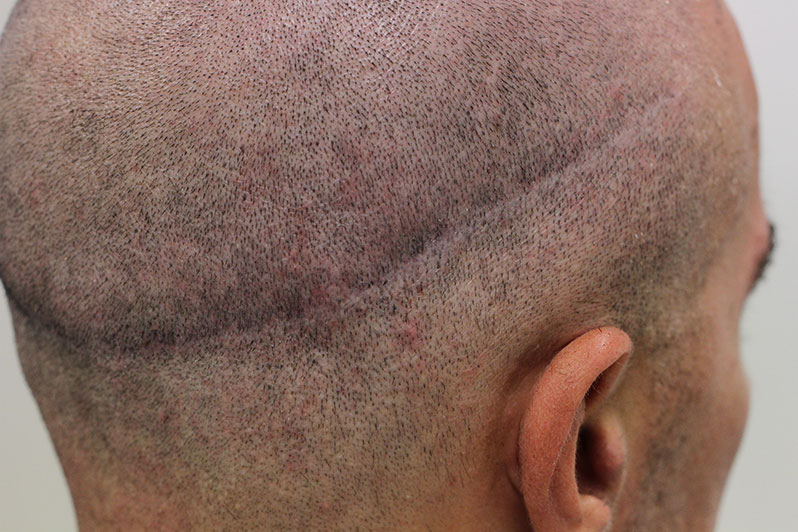 Above: Another patient with a prominent linear scar following FUT surgery.
More About Scarring
No matter how skilled your hair transplant surgeon is, an FUT hair transplant will leave a linear scar in the area where the strip of hair follicles has been removed. Not only is the scar permanent and prominent, but there is also the risk that the scar will widen and stretch with the passage of time. In addition, scalp distortion is another unwanted, yet all too frequent, side effect of FUT surgery.
For hair transplant patients who like to shave their heads or wear their hair short, FUT surgery is not recommended precisely because of the disfiguring scars and possible scalp distortion that it leaves behind.
The Best Alternative to FUT
At Paras Hair Transplant, we do not perform FUT or strip surgery and we strongly advise against it. We only perform the far superior hair transplant surgery method known as Follicular Unit Extraction (FUE). In fact, we have developed considerable skill and expertise in this technique because we know it achieves much better all-around results for our patients. Best of all, FUE does not cause noticeable scarring.
In our clinic, the doctor is always hands-on during all phases of the FUE procedure, ensuring our patients receive top-level care throughout their surgery.
If any further proof were needed that FUE is a much better option than FUT, we are frequently contacted by dissatisfied patients who have attended other clinics and undergone FUT who wish to have corrective FUE transplant surgery to repair or conceal their scars.
Other Damage Caused by FUT
Unfortunately, visible scarring is not the only damage caused by FUT or strip surgery. FUT can also cause disturbingly high levels of transection of follicles. In plain English, this means that the removal of hair follicles in a long strip can very easily lead to the follicles being severed. This means 'loss of follicles'; they are severed as the strip is removed meaning there is a very high transection rate when performing FUT. The follicles are damaged and cannot be transplanted as they will not grow.
To add insult to injury, we often witness cases where the donor area of a patient's scalp has been decimated to such an extent that there is no longer a lot of hair for follow-up transplants. This severely limits future hair transplantation options for the patient should he or she experience further hair loss. Many patients have a progressive pattern of baldness and follow-up hair transplantation surgery is quite common.
Key Takeaways
Prominent and permanent scarring on the back of the scalp is one of the main drawbacks of FUT or Strip Surgery.
Scarring caused by FUT or strip surgery may get worse over time.
Our doctor does not perform FUT or strip surgery. He prefers to use a surgical technique that does not leave his patients with disfiguring scars.
To find out more, book an appointment with the doctor today.