At Paras Hair Transplant Clinic, we know that hair loss can greatly affect your self-confidence and wellbeing. For some, rocking baldness is perfectly in line with their personalities, but for others, a hair loss treatment is preferable, and that's where we can help.
There are several ways to manage hair loss and the Paras Hair Transplant Clinic team is proud to take a holistic approach to treatment, focusing on investigating the root cause of the condition and providing a solution that will work for your hair.
In this case study, we explore the results of a Follicular Unit Extraction (FUE) hair transplant, which is one of the permanent solutions to hair loss we offer at Paras Hair Transplant Clinic.
Some quick things to know about FUE
Individual follicles are taken one by one from the back of the head and re-implanted elsewhere.
Donor hair can be acquired from the back of the head or even the beard or chest area.
We use a no-scalpel, no suture technique which means there's no visible scarring, unlike with FUT/FUG hair transplants.
The procedure is performed completely under local anaesthesia.
Our surgeon performs the extraction and implantation and is present for the entire procedure.
Below is the case of a patient with severe hair loss and what we determine as "below average" hair density and hair quality. Roger* attended the clinic with Norwood 3 to 6 hair loss and after a detailed consultation with our highly qualified surgeons, he was given 1500 grafts/follicles, over three visits. (Roger's donor hair density was one to no more than two hairs per graft/follicle). His visits were one week apart.
This is a great example of the sort of coverage and results that can be expected if a patient has below average hair quality and donor density. As with all treatments, it is essential for prospective patients to have a complete understanding of both the process and the expected results whilst taking into account that each case is different. At Paras Hair Transplant Clinic, we consider the patient's age, gender, and ethnic background along with the patient's desired results to achieve a natural looking hairline.
In Roger's case, 25-30 follicular units (groupings of hairs, usually 1, 2, 3, or 4 hairs in each follicular unit; but in Roger's case groupings of no more than 2 hairs in each graft/follicular unit, were grafted per square cm. In many instances this is below average, however, it was agreed prior to the treatment that Roger would have 1500 grafts in total, and these were to be spread evenly across the recipient area. Our surgeons injected platelet-rich plasma into the area being grafted at each visit and will continue to do so at following check-up appointments.
Here are the before and after images of a very happy Roger – this is after 8 months with more growth to be expected.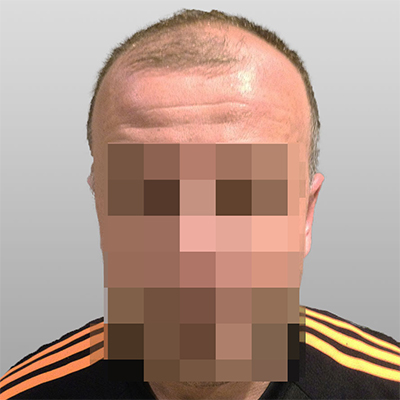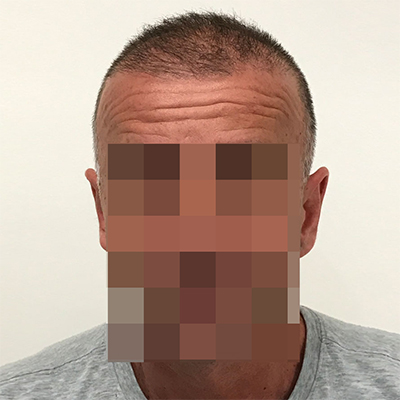 In some cases, it is a good option to return for further treatments after gaining a sense of how the hair will grow and to expand the area for grafting.
Roger may return for further treatment if he decides he would like to have more hair transplanted, especially around the frontal and temporal areas. Our team is dedicated to future planning in order to ensure our patients get the very best results, so in Roger's case we would need to take a few considerations into account:
The donor capacity – is there enough hair elsewhere to use as donor hair?
Is the area receiving the donation going to be responsive to further treatment?
As with all our transplants, our number one priority is to ensure patients get their desired results while also providing the safest possible treatments.
Roger has seen great results with his transplant and is very happy so far. We look forward to seeing further growth at 12 and then 18 months.
*The patient's name has been changed to protect his privacy.
Key takeaways
FUE can be successful in patients with lower than average hair density.
Click here to read more about why some patients consider multiple treatments.
Find out more about how hair transplant surgery could transform your hairline by booking a consultation today.