Geoff* presented to Paras Hair Transplant Clinic with Norwood Classification 2 hair loss with recession in the frontal and temporal regions. His main goals were to restore the frontal and temporal regions of his hairline, to add hair density; he also absolutely wanted to avoid strip surgery and the scarring associated with that procedure.
After careful consultation, it was determined that Geoff had an excellent donor capacity (16000 FUs in the donor area) and he was, therefore, an excellent candidate for FUE hair transplant. The goal was to replace approximately 2000 follicular units to the area. This would be divided into 2 procedures 8 months apart.
Shaving and preparation of the donor area.
Local anaesthetic to numb the donor area. Then the designed hairline is drawn in according to the patients wishes, taking into the account the patient's age, gender and ethnic background. These are all factors that determine the characteristics of an individual's hairline and what will look best post-procedure.

Follicular Units are extracted using the PCID (powered device) to carefully dissect each Follicular Unit. Extraction of the individual follicular units using fine forceps and an ATOE (Coles Instruments). Follicular units are kept chilled in special trays. Saline and ATPase are used as the holding solution to ensure survival of the follicular units until implantation.
Follicular units are placed via small incisions using very fine Coles forceps.

Geoff immediately following his hair transplant of 1200 Follicular Units and three days after transplant.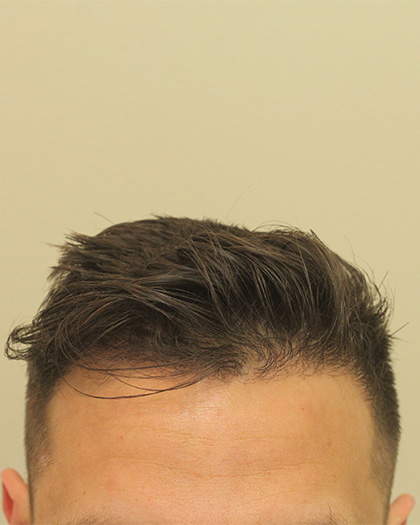 12 months after FUE Hair Transplant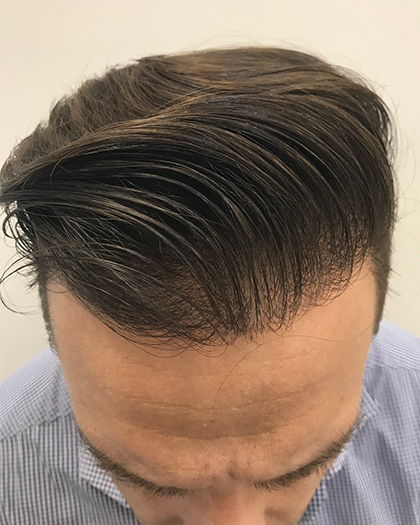 18 months after FUE Hair Transplant
2 years after FUE Hair Transplant
Find out more about FUE Hair Transplant